Thank you for SHARING this webpage via:
A medical book published in 1765:
As a contribution to each and every member of the scientific and scholars' international community who studies History of Medicine or French Literature or Typography/Graphic Design (either as a researcher or as a medical practitioner), Brig Gen I.C. Papachristos, MD, Ret. offers the scanned file of the following 1765 edition of medical book for free download IN MEMORIAM of Ioannis PRINCEPHILES, M.D., his mother's father:
( Traduction sur la troisième édition anglaise -
French translation based on 3rd English edition of:
« Essay On Fevers » )
Acrobat Reader file:

huxham_j_1765_essai_sur_fievres_pp1_122.pdf
[First 122 pages here: 31 pages of Preface + 91 pages of text, 18.2 MB .pdf file]
About the author & the book :
John Huxham

(1692–1768) was an English surgeon, a provincial doctor notable for his study of fevers. In

1750

Huxham published his '

Essay on Fevers

' and in 1755 received the

Copley Medal

for his contribution to medicine.

The book is all about fevers; a contemporary studier may well see how often the now-abandoned practice of 'bloodletting' was in use back in the 18th century. The book is written in French (that all important scientific articles of that era had to be translated into in order to be internationally read). The 18th century fonts used and all other typography features are amazing. Ancient Greek phrases (quotations from Hippocrates etc) are often present throughout the book

The book also contains a 'dissertation on the

Devon colic

,' that was a condition that afflicted people in Devon in the 17

th

and 18

th

centuries before it was discovered to be

lead poisoning.

Symptoms began with severe abdominal pains and the condition was occasionally fatal

Cider is the traditional drink of Devonians, and the connection between the colic and cider drinking had been observed for many years. The condition was commonly attributed to the acidity of the beverage.
William Musgrave's publication 'De arthritide symptomatica' (2nd ed, 1715) included the first scientific description of "Devonshire colic" – this was later referred to by John Huxham.

However, the precise cause was discovered in the 1760s when Dr George Baker put forward the hypothesis that poisoning from lead in cider was to blame. He pointed out that lead was used in the cider making process both as a component of the cider presses and in the form of lead shot which was used to clean them.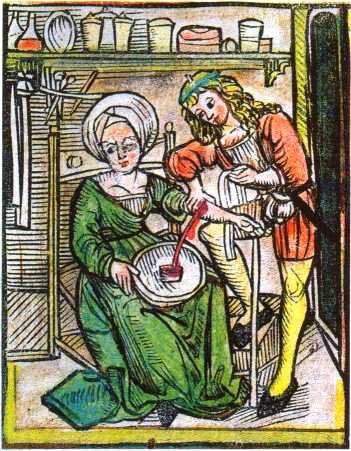 " Life is short, the Art long, opportunity fleeting, judgment difficult, experience delusive. "
" Ὁ βίος βραχύς, ἡ δὲ τέχνη μακρή, ὁ δὲ καιρὸς ὀξύς, ἡ δὲ πεῖρα σφαλερή, ἡ δὲ κρίσις χαλεπή. "
Hippocrates's Aphorisms, Section I, 1
Littré, Émile Maximilien Paul. Œuvres Complètes d'Hippocrate
vol. IV, p. 458, J.–B. Ballière. Paris, 1844
Thank you for SHARING this webpage via:
Thank you for visiting this scientific ( medical / thoracic surgical ) website of mine.

An additional MENU can be revealed by clicking on the PLUS symbol ( top – right ) ; it leads to the entirety of all English pages of this site to support the navigation.

On the contrary, the "Main" horizontal menu ( top – centre ) only links to sub–pages, but not to their children.