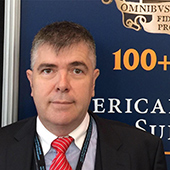 Please refrain from calling during weekends, holidays and during the 15:30-18:00' & 22:00-08:59' hrs of Mondays to Fridays (unless, of course, there is some true and genuine emergency) !

AM & Noon

(Monday to Friday)

:

( +30 ) 2310 382369

Please, fill in the

on–line contact form

to send me an email

Requests for Outpatients' Appointments is the only email correspondence accepted.

How to book an appointment :

Armed Forces & Police personnel:


Armed Forces' personnel and all persons entitled for admission into 'The 424 TMGH' are advised to first book an Out-Patient's Appointment through the appropriate military channels, then come to the Thoracic Surgery Out-Patients' Clinic (on Tuesdays & Thursdays at 10:30 AM – 13:00 hrs).

The telephone number for booking such appointments at 'The 424 TMGH' is: (+30) 231 0381044 (please dial this direct line during 10:00 - 13:00 hrs only, on a Monday to Friday)

Col. Ioannis C. PAPACHRISTOS, MD
Consultant Thoracic Surgeon
7, K. Alexiadi Str.
55132 KALAMARIA
Greece


For correspondence only!
Thank you for SHARING this webpage via:
Thank you for SHARING this webpage via:
Thank you for visiting this medical ( thoracic surgical ) website of mine.

An additional MENU can be revealed by clicking on the PLUS symbol ( top – right ) ; it leads to the entirety of all English pages of this site to support the navigation.

On the contrary, the "Main" horizontal menu ( top – centre ) only links to sub–pages, but not to their children.